Games that you want a HD remake of...
Bug's worst friend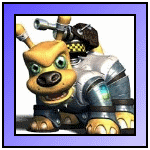 While I doubt it'll ever happen the way Rare's going now, I'd like to see Jet Force Gemini get an HD remake.

The game was amazing, yet it hasn't gotten this yet. As well, it's hardly well known, so it would be good exposure.
Permissions in this forum:
You cannot reply to topics in this forum